Arrests over firearms and fireworks incident in Wrexham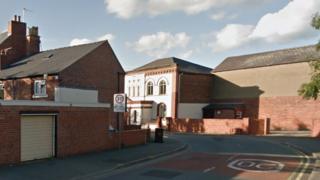 A Wrexham street has reopened after police carrying out a search warrant found suspected firearms and "unstable" firework.
A man, aged 28, and a woman, aged 35, have been arrested on suspicion of the possession of firearms over the incident at Chapel Street.
The army's Explosive Ordnance Disposal unit was called to the scene and a cordon was put in place for a time.
North Wales Police said it was "not a terrorist related incident".