Turkey farm go ahead for 20,000 birds in Llay, Wrexham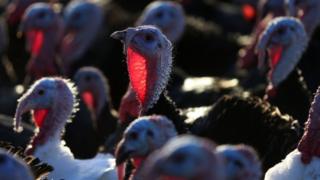 Plans for a turkey farm rearing 20,000 birds have been given the go-ahead by Wrexham councillors.
Aviagen Turkeys' planned facility at Rackery Lane, Llay, has attracted some local concerns about noise and smells.
Four out of 51 neighbouring properties have raised concerns about the planned turkey rearing facility.
A separate application for 15,700 birds to double barn egg production at Talwrn Farm, Legacy, has been deferred.
A planning report recommended both schemes be granted permission at the Guildhall meeting on Tuesday afternoon.
The report said Aviagen Turkeys had discounted several other sites because ensuring bio security was a major issue, keeping birds far enough away from other farms or areas of open water where wildfowl congregate.
It said the applicant, which is based at Tattenhall, Cheshire, was a "primary breeding company and maintains unique and irreplaceable pedigree turkey lines vitally important to the European and wider world's turkey farmers".
It added: "The selection process for breeding birds has evolved over the years to include many more selection traits resulting in the need for new farming space.
"The original pedigree rearing farms built 30-40 years ago no longer meet this requirement."
In April 2015, Talwrn Farm won a planning appeal to allow barn egg production to get under way.