Feral kitten named Sky after being dropped by seagull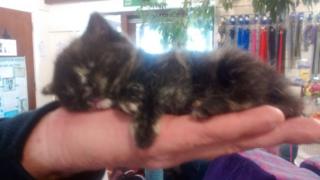 A feral kitten grabbed by a seagull and dropped from the sky has been rescued by an RSPCA Cymru inspector in Denbighshire.
The four-week-old kitten has been named Sky after escaping unhurt in the incident near a holiday park at Rhyl.
She is being hand-reared at the charity's Bryn-Y-Maen Animal Centre at Colwyn Bay, Conwy county.
A spokesman said: "This poor kitten must have been through a terrifying ordeal."
The centre hopes to re-home the kitten once she is old enough.