Wrexham Maelor Hospital doctor sent woman with sepsis home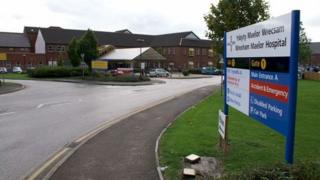 A woman was discharged from hospital by a junior doctor who failed to diagnose severe sepsis in her leg, an ombudsman's report reveals.
After returning to Wrexham Maelor Hospital the next day, she was found to have an acute kidney injury and she died four days later in February 2015.
The Public Services Ombudsman said she should have been admitted after her first visit and upheld a complaint.
Betsi Cadwaladr University Health Board has apologised to the woman's family.
The report said the woman was first taken to hospital after vomiting and feeling pain in her legs, where she had ulcers.
She had had to wait three hours for an ambulance to the hospital and then the junior doctor in the emergency department who saw her said she looked well.
But the ombudsman's investigation found that the sepsis could have been diagnosed at that stage.
Instead, she was discharged at 04:00 GMT after her symptoms appeared to have settled.
'Different outcome'
The following day district nurses attending her leg dressings were so concerned that she returned to hospital. The sepsis guidelines were then followed but the woman's condition worsened and she died on 10 February.
Greg Phillips, the ombudsman's assistant investigation officer, said the woman's family had been left with "the uncertainty of not knowing whether, if treatment had been initiated earlier, the outcome may have been different".
The health board has agreed to pay the family £2,500 "to reflect the uncertainty".
In addition, it was told to remind the junior doctor involved to keep fuller notes of his assessments, and to remind staff in the department of the need to follow good practice in managing cases of sepsis or suspected sepsis.
Betsi Cadwaladr also apologised for the ambulance delay, which the ombudsman described as "concerning".