Queensferry Costcutter robbery accused 'did not see knife'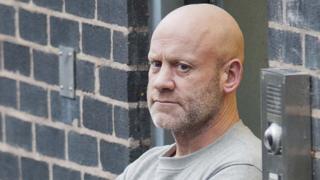 A man who denies being part of a robbery at a convenience store has said he could not believe it when he saw his friend brandishing a knife.
Shopkeeper Imtiaz Ul Haq, 58, suffered serious injuries to his throat after it was cut during the attack at Costcutter in Queensferry, Flintshire.
Leslie Peter Baines, 47, of Connah's Quay, is on trial at Mold Crown Court.
Another man, Matthew Whelan, 29, from Mancot, has already pleaded guilty to robbery and attempted murder.
Mr Haq alleged that Mr Baines refused to help him and restrained another man who could have assisted him during the incident last December.
Giving evidence, the defendant said he went to Costcutter to get some alcohol with Whelan, his sister's boyfriend, but did not know he had a knife.
As Whelan attacked the shopkeeper, he agreed he did not intervene to stop him.
"I don't know why really, I was shocked and I did not want to get into any trouble," he told the court.
"I called him every name under the sun - I did not know whether to run and grab him, my head was all over the place."
The court heard that when another man entered the shop, Mr Baines told him the shop was being robbed - but did not stop him or restrain him.
He said he told Mr Haq to put pressure on his wound and asked for a phone to ring the police and ambulance.
The court heard he remained outside the store for 40 minutes to an hour after the police arrived and left when Mr Haq was placed in the ambulance
"I thought everything was done, I told an officer I was a witness and told him where I lived," he added.
During the questioning, he agreed he had previously helped Whelan shoplift at Lidl but he said he was not short of money at the time of the robbery.
Asked about the fact that his mobile phone had used a loan site on a number of occasions that day, he said it was not him.
The trial continues.