Crimewatch Roadshow: Appeal over Ruthin woman's attack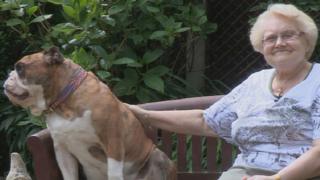 A 72-year-old woman has been reliving the moment she was beaten by robbers in her Denbighshire home, in a bid to help catch the culprits.
Lis Culshaw was woken in the early hours of the morning at the property in Ruthin in December.
One of the men armed with a knife left Mrs Culshaw battered and bruised, before fleeing with more than £1,000.
She told the BBC One Wales Crimewatch Roadshow that her greatest fear was for the life of her bulldog, George.
"I heard this crash against the front door," said Mrs Culshaw.
"Next thing this fella was in my room with a knife in his hand. And he said: 'Where's your safe?'.
"The other one had come into the lounge here and said 'I'll kill the dog, I'm going to kill the dog' and I was absolutely terrified."
Mrs Culshaw lost two teeth in the attack and suffered severe bruising.
The incident took place at about 03:45 on Saturday, 3 December.
The money stolen by the thieves had been taken out to buy Christmas presents for her family.
"The level of violence, thuggery, they used against an old lady - I'm partially disabled - I thought it was dreadful. Absolutely dreadful," added Mrs Culshaw.
Police are still searching for the attackers, who are described as both being about 30-years-old.
The first man was about 5ft 8in (1.73m) tall, with a slim strong build and clean-shaven, wearing a dark balaclava, dark top, beige trousers and a brown belt.
The second man was stockier and wearing dark clothing.
You can catch-up with Crimewatch Roadshow on the on the BBC iPlayer.