Wrexham's £4.5m revamped market to get new name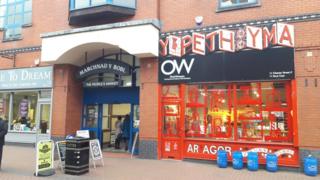 Three options for the new name of Wrexham's revamped People's Market and arts centre are due to be announced.
Stallholders relocated in January to allow work to get under way on a £4.5m redevelopment which involves adding two galleries, performance areas, a gallery shop and market stalls.
The present gallery, Oriel Wrecsam, is situated next to the market.
Contractors are expected to finish the project by 2018.
Three suggestions for names will be made public at an information event at the Guildhall on Monday.
The development has received funding from the Arts Council for Wales, the Welsh Government's Vibrant and Viable Places and Wrexham council.