Ruthin exhibition marks 20th anniversary of Diana's death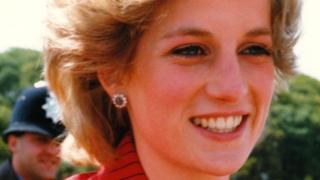 A collection of photographs of Diana, Princess of Wales has gone on show in Denbighshire to mark the 20th anniversary of her death.
Amateur photographer Colin Edwards, 75, from Ruthin, took more than 200 pictures of the princess at public events.
She died, aged 36, on 31 August 1997 in a car crash in Paris.
The exhibition of 124 photographs is being held at St Peter's Church, Ruthin, until 29 July.
Mr Edwards - a retired civil servant who spent much of his spare time capturing pictures of the Royal Family - said: "'I met Diana at many of her walkabouts and became a familiar face.
"I would talk to her about her boys, her charities and her foreign visits; conversation was always very easy with Diana.
"In 1998, the year after her death, I held exhibitions of my photographs of her in several towns and cities and was deeply moved by the reactions of visitors."