David Challinor jailed for stalking Wrexham police officer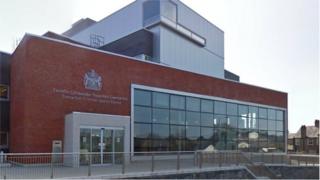 A former council worker who stalked two people including a police officer has been jailed for 18 months.
David Challinor, 47, of Wrexham, posted offensive messages to the officer online after blaming him for losing his job following a police caution for harassment in 2009.
Caernarfon Crown Court heard he also harassed a Greggs bakery shop worker and exposed himself in a clothes store.
He admitted aggravated stalking, exposure and shoplifting.
The court heard Challinor, a former council CCTV operator, had "persecuted and pursued" the police officer, posting menacing messages on a website run by the victim.
He also stalked a woman who worked at a Greggs bakery after they met at a charity shop and started talking.
The court heard he later sent her 50 letters, some which included sexual content, as well as gifts, money and flowers.
Challinor, who was already the subject of a restraining order, was issued with a fresh action.