Flint Castle iron ring plan 'shows ignorance of history'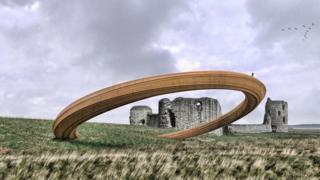 Controversial plans for an iron ring sculpture show a "basic ignorance" of Wales' past, a historian has said.
A petition signed by more than 10,700 people has called for the Flint Castle proposal to be scrapped as it symbolises the oppression of Welsh people.
The Welsh Government has now put plans on hold and will review the move.
Historian Dr Elin Jones said it suggested decision-makers were disconnected from the views of people.
The sculpture was said to represent the relationship between the medieval monarchies and their castles, with Flint one of the first Edward I built in Wales, in 1277.
Architects behind the design said it showed "the unstable nature of the crown".
However, critics suggested the "ring of steel" was the description given to the chain of castles across Wales that were built to conquer and subjugate its people.
Dr Jones, who reviewed the teaching of history in Welsh schools, said: "It shows a basic ignorance of Wales.
"To not realise that people would be offended shows a disconnect between Cadw's understanding of what Wales is and symbolises and Welsh people's feelings of their country."
She said it illustrated two views - decision-makers who see themselves "in these castles looking out" and people who think "my ancestors died building them".
Dr Jones pointed to the statue at the site of a mining disaster in Six Bells, Blaenau Gwent, as an example of what monuments in Wales should represent.
"It is of the people and speaks to the people of the area," she told BBC Radio Wales' Sunday Supplement programme.
"It is not a tourist attraction but could be if Cadw had confidence, the same as the mining memorial in Senghenydd."
Former chief executive of tourism body Visit Wales Jonathan Jones said the Flint monument possibly lacked sensitivity and described castles as "weapons of mass destruction of their day".
But he said it could also represent the spirit of the Welsh people - the fact it is partially buried illustrating Edward I failed in his bid to encircle Wales with a ring of iron.
"I'd have Owain Glyndwr in the middle and people walking round the edge listening to Yma o Hyd by Dafydd Iwan," he added.
He welcomed debate on the issue, saying the ring could be "loved and cherished" and draw tourists if the wider story was properly understood.
Economy Secretary Ken Skates said: "We have listened and recognise the strength of feeling around the proposed art installation at Flint Castle and feel it is only right that we now take a pause and review the plans for the sculpture."
Monuments body Cadw said it recognised "art divides opinions, encourages debate and can be interpreted in many ways".