Rugby use proposed for former John Summer High school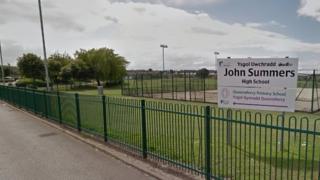 A former high school which closed last month and is due to be knocked down could be used as a base for a local rugby club, the council has said.
John Summers High School in Queensferry, Flintshire, shut its doors at the end of term in July.
Flintshire council has promised not to build housing on the site while the current administration is in charge.
It is in talks with Shotton Steel RFC about the club using the playing fields at the site.
A spokeswoman for the council said: "Our commitment to the John Summers site is public and open space use in perpetuity.
"The council is currently considering a range of options for the site which have the potential to benefit the health and wellbeing of Flintshire residents.
"Discussions over building houses have not taken place as green space is at a premium in the built up Deeside area."