Food given to Wrexham homeless 'may be sold to buy drugs'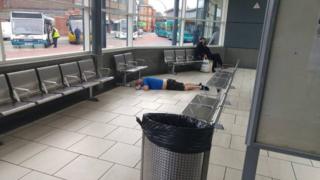 Some homeless people who are camped at a former school could be selling food given to them by the public to buy drugs, according to Wrexham council.
In March, photographs appeared of people in zombie-like states at the town's bus station after taking psychoactive substances.
The council's deputy leader has urged people not to make donations directly to the former Groves school site.
About 20 people will be allowed to stay while specialists assess their needs.
Crimestoppers has also called for help to stop the supply of "dangerous drugs" in north Wales, suggesting there was a "big problem" in the area.
"I have urged, in the strongest possible terms, that people do not make direct donations to those on the Groves site," said the council's deputy leader Hugh Jones.
"We're getting reports back from those engaging with the people on the site that supplies of food and other donated items are being sold for drugs - this, obviously, only makes things worse."
Instead, people are being asked to donate to charities who could help tackle the problems.
Previously known as legal highs, substances such as Mamba and Spice can cause paranoia, psychosis and seizures, and have been linked to UK deaths.
A council statement said since the situation at the bus station gained widespread attention, drug users have set up camp at the Groves School, which closed in 2006.
North Wales Police and Crime Commissioner Arfon Jones believes a 24-hour drop-in centre where people could take drugs would alleviate some of the issues.
He said: "There is no wish amongst them to be anti-social.
"What they are looking for is something to do with their day. It's a mind-numbingly boring experience - 12 hours on the street - and they have to live this life day in day out."
A man at the camp said he was there because he was released from prison and lost his job, so had nowhere else to go.
"This is where I find myself. They have got a night shelter round the corner that holds 16 people - why can't they get another built for 100 people?" he added.
Wrexham Town Centre Forum's Nigel Lewis called for shipping containers to be used to provide housing, adding: "The costs are incredibly low and we can raise grants and sponsorship and give some of the homeless jobs building them."