'Dishonest' Prestatyn care home boss Kathleen Duffy banned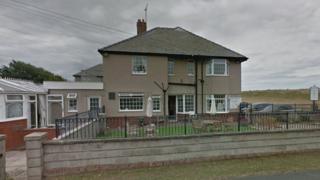 A former Denbighshire care home boss has been banned from working as a social care manager for five years.
Kathleen Duffy, who worked at Beach Court Care Home in Prestatyn, has been removed from the register of adult care home managers by Social Care Wales.
A hearing found five allegations of dishonesty - relating to the misuse of residents' pocket money - were found proved and amounted to misconduct.
Mrs Duffy can apply to be re-registered in 2022.
Two of the seven charges against her were not proved, but three were in full and two others in part.
A Social Care Wales report said: "We have concluded that Mrs Duffy dishonestly allowed residents' pocket money to be misused and that she concealed that misuse through her creation of false records.
"We decided that this called her integrity into question, caused financial harm to residents and risked undermining confidence in the social care profession."
This means Mrs Duffy cannot work as a manager in a care environment if the role has to be registered with Social Care Wales.
However, the report added: "Our decision today does not prevent Mrs Duffy becoming registered in another role in the future.
"The evidence before us does not suggest that Mrs Duffy is unsuitable for work in a care role providing that role does not involve either management or administration of residents' money."
The panel ruled she:
Instructed staff that cash payments for residents should be taken to her home
Failed to maintain adequate records and/or ensure adequate records were maintained in dealing with finances of two residents
Completed records and/or allowed records to be completed retrospectively for residents' pocket money
Falsified signatures and/or allowed staff to falsify signatures on pocket money records
Used or allowed residents' money to be used for purposes other than for the benefit of the residents (part proved)
Dishonest action (part proved)