Wrexham robber threatened staff with blood-filled syringe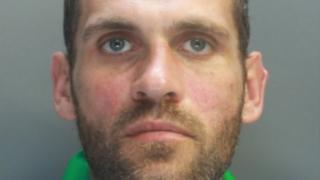 A drug addict who threatened shop staff with a blood-filled syringe has been jailed for four years and three months.
A judge at Mold Crown Court told Mervyn Hardy, 36, it was "a sick weapon".
Hardy, of Wrexham, took a £599 CCTV system from Maplin's electrical store in the town on 30 April and threatened staff with the needle containing blood and water when they tried to intervene.
He admitted robbery and possessing an offensive weapon on Wednesday. The court heard no-one was injured.
Hardy entered the store after being seen hanging around outside by staff and immediately grabbed a CCTV system from a display near the door.
Sleepless nights
When a staff member tried to stop the theft, Hardy brandished the syringe, prompting the employee to let go.
He then fled with the system and was spotted on town centre CCTV cameras with the syringe still visible.
Judge Niclas Parry told him: "You entered a public store and there you threatened two public servants with a sick weapon."
One of the victims said he had suffered sleepless nights because of the incident.
Nicholas Cockrell, defending, said his client had been out of jail for two years and had done his best to put his past behind him.