Glyndwr University sensor to support vulnerable elderly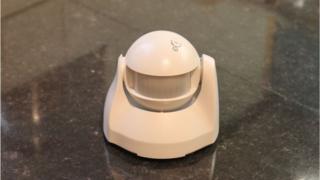 An inventor who designed a sensor to support elderly people living alone will take his product to market.
Tim Jones was inspired by his mother Beris who lived independently in Chester until she died from cancer in 2016.
He began to explore ways of recording how she moved around the house and used appliances for peace of mind, before deciding to make the device for others.
Mr Jones worked with Glyndwr University in Wrexham to design BenignEye.
BenignEye spends 30 days monitoring how the person moves around the house and what they do such as looking at how many times they put the kettle on or how long they sit in a chair - and it monitors whether there is a pattern.
It then alerts the person's family by text or email if their routine changes or the person is less mobile than usual.
It can also automatically turn off appliances which have been left on or raise the alarm if the temperature of the house is too low in winter.
Mr Jones said of his mother: "I know there are many people out there like her, who live alone despite their late age and fight for the right to do so.
"They deserve that right, but you can obviously understand the concerns of people around them - I experienced that myself - so this is a way that can help."