Investigation into Kronospan Chirk factory fire cause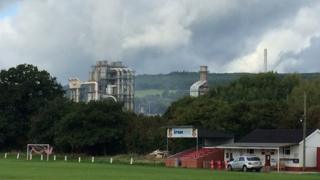 An investigation has begun into the cause of a large fire at a factory in Wrexham county borough.
North Wales Fire and Rescue Service was called to Kronospan - a company that manufactures wood-based panels - in Chirk just before 05:00 BST on Friday.
A spokesman said the blaze was confined to wood chip within a silo area and the fire was out shortly before 12:00.
No-one was hurt and the company said it was working with the fire service to determine the cause of the blaze.
There have been a number of fires at the Kronospan factory in recent years:
August 2006 - fire in ducting in production area
April 2007 - fire in building above the dryer's furnace
September 2007- fire in processing section
September 2010 - fire in industrial dryer
In 2012 there were five fires at the site - one in June, two in July, one in October and one in November
In February 2017, the Health and Safety Executive issued a prohibition notice on three gas engines at the plant as part of an investigation into a "failure to prevent a gas explosion".
Residents living nearby have also complained about the amount of dust coming from the factory.