'Unusual odour' forces plane to land in Flintshire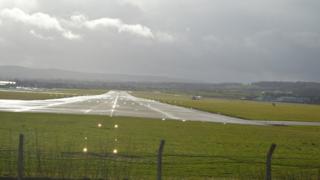 A plane has been forced to land at an airport in Flintshire after an "unusual odour" was detected in the cockpit.
The Eastern Airways charter flight from Bristol was forced to land at Hawarden Airport shortly after 9:30 BST on Monday, prompting fire and ambulance crews to be put on standby.
Two of the 11 passengers were checked for minor injuries, but nobody was sent to hospital.
The airport is open as normal.
An Eastern Airways spokesman said: "The safety of our passengers and crew is our number one priority and will not be compromised."
It is understood that Eastern Airways operates regular charter flights between Bristol and Hawarden for Airbus, which owns the airport and employs more than 6,500 people at its adjoining wing-making factory.