Thieves pretend to be police in Llay to target couple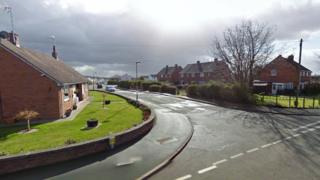 Thieves stole a "substantial quantity of cash" from an elderly couple's home by pretending to be police officers.
The two thieves said they needed to turn the water stop-cock off because of damage from Storm Ophelia around 19:45 BST on 16 October.
After they left, the couple, who live in Llay, Wrexham, noticed money missing and their closet had been searched.
Det Insp Mark Hughes described it as a "particularly mean crime against an elderly couple in their own home".
North Wales Police is searching for the two men and has warned residents to "be aware of cold callers".