£5m Brymbo steelworks heritage centre hopes move forward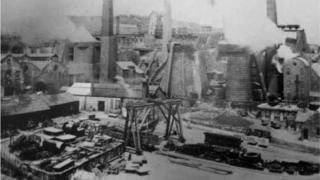 Plans to regenerate a former iron and steelworks site in Wrexham have been given an £800,000 boost.
Enthusiasts trying to restore buildings at the old Brymbo steelworks hope to secure £5m in total from the Heritage Lottery Fund to open a heritage centre.
The sprawling site employed about 2,500 people at its peak but it closed in 1990 after almost 200 years.
UK heritage minister John Glen said it could become an exciting new cultural tourist attraction.
The site was developed in the late 1790s by prominent industrialist John 'Iron Mad Jack' Wilkinson.
He pioneered the manufacture of cast iron during the Industrial Revolution and he also invented a precision boring machine used to make cast iron cylinders, such as those used in steam engines.
The site began producing steel from 1884 before ceasing operations almost 30 years ago.
Brymbo Heritage Trust will use the money to engage design, engineering and legal experts to develop and cost its proposals, ahead of a second stage application in late 2019.
If that application is successful then building work could get under way in 2020.
Volunteers running the site are also planning to turn a "fossil forest" into an attraction.
Remains dating back 300 million years were unearthed during the restoration project and have since been awarded special protection due to their national significance.
Trust chairman Nick Amyes said: "We faced tough competition to secure this funding, and we're absolutely delighted."
The group received £2m in April as part of its project to use nine old buildings to create a heritage centre, learning facilities, business units, shops and apartments.