Singing decorator from Flintshire saves church gig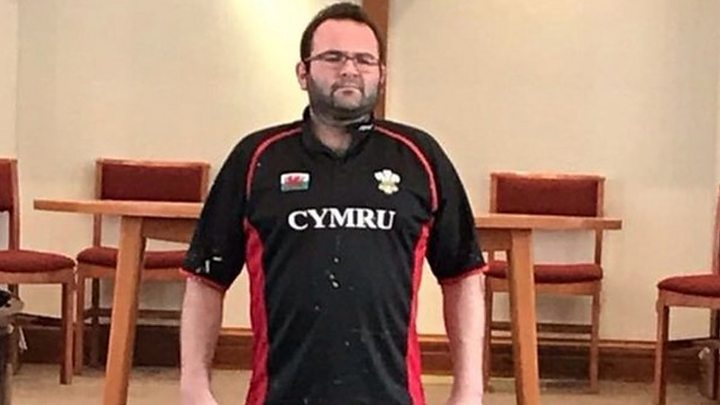 He has performed for the Prince of Wales and entertained crowds of more than 15,000.
But opera singer John Pierce was not expecting to sing while helping his father-in-law decorate a church.
Mr Pierce, 34, originally from Holywell, Flintshire, stepped in at the United Reformed Church, Maldon, Essex, when the lunchtime pianist cancelled.
"I was so pleased it went down OK," tenor Mr Pierce said. "Normally, I like to be a bit better prepared."
The pastor, Rev Mark Ambrose, was preparing to scrap the scheduled lunchtime music recital just half an hour before guests were due to arrive.
But Mr Pierce's father-in-law Jim Earls, who overheard the commotion the cancellation had caused, shouted down from his ladder: "Oh, John will do it. He's a fantastic singer."
Mr Pierce said he stepped down from his own ladder and carried out a quick warm-up routine - gentle gargle, scales and swinging arms to loosen his diaphragm - as he waited for the audience of 120 people to take their seats.
"Luckily, I'd done a wedding gig a few days earlier so I had my speakers and laptop, which has my backing music, in the car," said Mr Pierce.
"But there wasn't time to nip home and change so I had to perform in my paint-splattered overalls and a well-worn Ospreys rugby shirt."
His impromptu, 45-minute performance - which included renditions of Puccini's Nessun Dorma, Bring Him Home from Les Miserables, and a volley of Italian arias - earned him a three-minute standing ovation.
Mr Ambrose said: "When he walked in covered in paint, people laughed but when he started singing everything changed.
"They were bowled over by his amazing voice."
Mr Pierce had swapped the stage for a set of paintbrushes to help pay the bills when he and wife Louise started a family three years ago.
He said the surprise booking had given him fresh impetus to revive his singing career.
"Unless you have a lucky break, it is difficult to earn a living as a classical singer and if I'm honest I'd become a little disheartened," he said.
"I need a regular income, so when Jim offered me a decorating job, I jumped at it.
"I still sing semi-professionally but it doesn't pay enough to support a family."
Mr Pierce is hoping his luck may change after his father-in-law filmed him singing Nessun Dorma and posted it on YouTube, where it has received more than 50,000 views.
He has an opera and vocal studies degree from the Royal Northern College of Music in Manchester and has performed with English National Opera and the Royal Philharmonic Orchestra.
In 2008, he sang for Prince Charles at a gala dinner held at Caerphilly Castle to mark his 50th anniversary as Prince of Wales.
Mr Pierce, who now lives in Colchester, Essex, with his wife and their two young children, also represented Wales at the 2011 BBC Cardiff Singer of the World.
He said his "dream" is to sing the Welsh National Anthem at Cardiff's Principality Stadium before a Wales rugby international against England.
In the meantime, he said he has been booked for another lunchtime appearance at Maldon's United Reform Church.