Robert Guy picked for orchestra conducting competition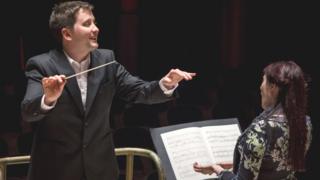 An orchestra conductor from Wrexham has been chosen from 300 candidates to take part in an international competition in Spain to support emerging talent.
Robert Guy, 29, described December's 2017 Cadaques Orchestra International Conducting Competition as a "golden opportunity".
He overcame childhood deafness, learning the piano at the age of three even though he could not hear properly.
Guy helped to set up North East Wales Sinfonia and he now lives in Stockport.
He is also the director of the University of Manchester's choral programme.
The winner of the competition gets the chance to conduct 35 orchestras over the next three years, including the BBC Philharmonic.
Guy is one of 60 young conductors from around the world selected to compete.