Two firms in Wrexham expand to create 350 new jobs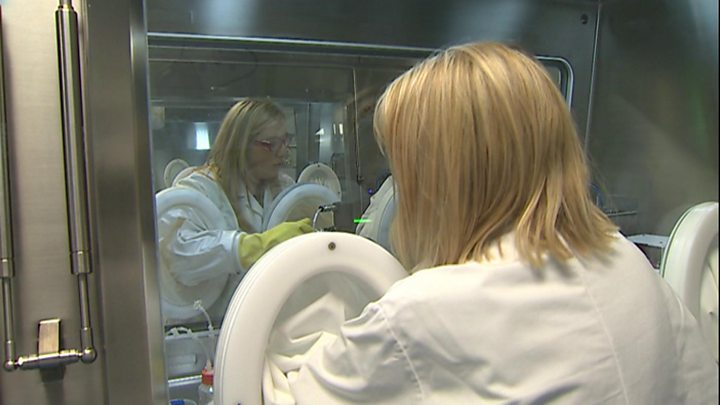 Two companies have promised 350 new jobs in Wrexham.
Dubai-based Hotpack Packaging is to create 250 jobs by locating its new European headquarters in the town within the next three to five years.
Life sciences firm Ipsen is employing an extra 100 people this year by expanding its facility in an investment worth £22m.
The Hotpack deal includes a £1.5m loan from the newly-opened Development Bank of Wales in Wrexham.
It becomes the first firm in the region to benefit from the Wales flexible investment fund.
Hotpack, which makes more than 3,000 disposable food packaging products, will be sharing the site on the Llay industrial estate with electrical giants Sharp.
Competition
Wales faced competition from other European countries before securing the Hotpack deal and it has been estimated that the company's presence could bring £50m of inward investment to the region.
Economy Secretary Ken Skates said he was confident that Hotpack's move would bring "genuine benefits to the local economy and community".
Ipsen, which is Wrexham's third biggest employer with 400 workers, has announced an extra £22m investment.
The expansion will allow more research and manufacturing of medicines for neurological disorders.
The company said it would see production "grow significantly to reflect demand and company ambition".
'Success stories'
The facility has been in Wrexham since 1995 and is involved in the whole process from research to distribution.
Ipsen makes Dysport, which is a medicine used in therapy for cerebral palsy, spasticity and cervical dystonia.
The company has plans for a further £40m investment in Wrexham.
Welsh Secretary Alun Cairns, on a visit to the Wrexham site, said it was exciting times for the company.
"Ipsen is one of north Wales' great success stories," he said.
"Their continued expansion is a clear demonstration of the significant contribution life sciences and innovation in these specialist areas make to the region and to the Welsh economy."
Aidan Murphy, senior vice president, said the medicines produced involved a highly complex process.
"We are fortunate to work with a group of highly-skilled individuals across all parts of the organisation at Wrexham and know that this expansion reinforces the site's position as a state-of-the-art medicine manufacturing facility located here in the UK," he added.