Rhyl restaurant 'significant to waterfront redevelopment'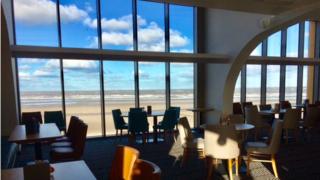 A fine dining experience is set to open in Rhyl, marking the first completed stage of a multi-million pound waterfront development.
Denbighshire council said it had invested in the flagship restaurant to encourage others to develop a similar standard of evening entertainment.
Called 1891, it is located in the town's Pavillion Theatre.
Other approved plans include a water park and turning the redundant Sky Tower into a light feature.
Denbighshire council leader Hugh Evans said: "As a local authority we've got to show a lead in terms of showing our confidence and commitment to Rhyl."
Mr Evans said: "The redevelopment of the Pavilion Theatre is part of the wider work in Rhyl which will increase footfall in the town and create jobs that will boost the local economy.
"1891 will form a significant part of the waterfront redevelopment.
"Work is already under way at the waterpark and work is nearing completion at the Premier Inn hotel at the former Honey Club site, while the illuminated Sky Tower offers a great skyline feature for the town."
He added: "There's still a lot going on but the jigsaw, the picture, is starting to emerge."
The restaurant, which opens on Friday, has employed 18 members of staff after a recent recruitment day, with the majority coming from Rhyl.
The council is also working with a number of suppliers in the area to provide local produce.