North Wales Police mental health training call after death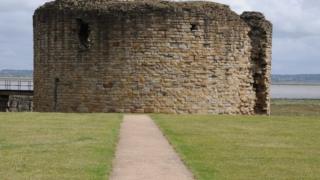 A police force will be asked to look at how it trains officers dealing with mental health-related calls after a man was found hanged at Flint Castle.
North Wales Police was called by Joshua Hamill's girlfriend because the 24-year-old threatened to harm himself after a disagreement in June 2016.
A Ruthin inquest heard police "sent him on his way" and a jury said Mr Hamill, from Northampton, died of misadventure.
Coroner John Gittins will ask North Wales Police to look at its process.
"It's one thing to have training, it's another for it to be best practice," he told the inquest.
"I do feel that more work needs to be done to ensure the effectiveness of training in issues surrounding individuals with mental health issues."
Mr Hamill had a long history of mental health issues and suffered from ADHD, depression and anxiety and the inquest heard he had previously tried to hang and drown himself.
The father-to-be, who had also taken overdoses in the past was found dead by a member of the public on 5 June 2016, the day after a disagreement with his girlfriend at a pub in Flint.
Partner Emily Johnstone, from Holywell, Flintshire, who was pregnant with their child, said she had asked police to take him away and keep him safe.
After speaking to him, several police officers thought Mr Hamill was not a threat to himself and they closed the matter as a domestic incident.
The coroner stressed officers had acted lawfully and appropriately but said the case raised issues about the effectiveness of training North Wales Police officers receive about dealing with people with mental health issues.
Mr Gittins said he would submit a report to North Wales Police asking IT to consider changing the way officers open and close matters - and it has 56 days to respond.