Branch sheltering snow from Michael Owen's car falls on it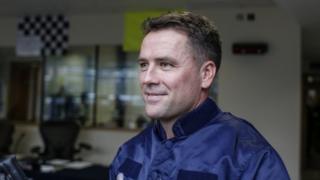 Former footballer Michael Owen thought he was making a smart move parking his car under a tree to shelter it from snowfall overnight.
But when he came out at 05.30 GMT to drive to the train station for an early start, he had an unpleasant surprise.
The weight of the snow had snapped the covering branch and sent it crashing down on to his Bentley GT Continental, outside his Northop, Flintshire, home.
He tweeted: "Not ideal at 5.30am when you've got a train to catch!"
He added: "Thought I was clever sheltering my car from the snow."
His predicament caused a certain amount of teasing from fellow Twitter users.
Mark Ellison replied: "Poor Michael Owen, even his car is injured"
Si @_OfficialSi tweeted: "Nothing worse is there Mike, hate it when I have to take the other Bentley out like"
But it was Gaz Denwood who succinctly summed up the most common response: "No garage Michael?"