Homeless turned away from Wrexham night shelter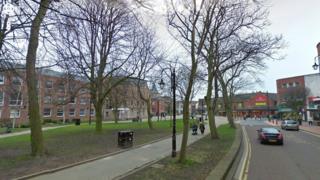 Urgent meetings are being held by Wrexham council leaders to provide enough accommodation for homeless people sleeping rough.
It comes after nine people had to be turned away from one of the town centre's homeless shelters because there was not enough room.
Both the Ty Nos and St John's shelters have been fully occupied since Friday's cold spell began.
On Monday evening, 31 people arrived at Ty Nos which had space for 22.
Shelter staff had never experienced such high demand before, councillor David Griffiths told colleagues during a Guildhall meeting on Tuesday.
He said efforts were now being made to ensure the nine would not be left out in the cold tonight.
Mr Griffiths, executive board member responsible for housing, said work was being done behind the scenes to provide help and support for homeless people and that their plight was at the forefront of council efforts.
But he also said that a number of homeless people sleeping in shop doorways at the weekend told council staff that they did not need help.