Richard Pentreath jailed for burning down wrong house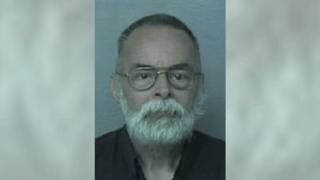 A former professional chess player has been jailed for attempting to start a fire at the house of a woman who gave evidence against him in a rape trial.
Richard Pentreath, 64, of Cheltenham, tried to start a blaze at the house in Prestatyn - but got the wrong address.
He was convicted of arson with intent to endanger life and attempting to take revenge, as well as rape and indecent assault following a separate trial.
He was jailed for 35 years at Manchester Crown Court.
Anna Price, prosecuting, said Pentreath could only have intended the victim harm when he poured an accelerant through the letter box of a house in October 2016.
Pentreath admitted what he had done but said he did not intend to harm her or kill the woman, claiming he wanted to scare her "into telling the truth".
But the prosecution claimed he had tried to track her down for many years, even travelling abroad to look for her, and had threatened to kill her.
Duncan Bould, defending, said Pentreath denied those claims and Mr Bould argued the jury could not be sure he intended to hurt her.
When he realised he got the wrong address, Pentreath said: "It was the wrong lady - don't rely on Google map".
Police issued a warrant for Pentreath's arrest after he went on the run after attempting to start the fire.