Bus firm D Jones & Son received traffic commissioner warning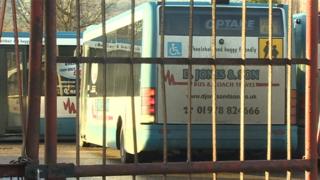 A bus company which ceased trading without notice had been given a formal warning by the Traffic Commissioner for Wales in October, it has emerged.
Councils have been forced to find new providers after D Jones & Son, of Acrefair, near Wrexham, stopped its operations on Friday.
The commissioner previously held a public inquiry into the firm and recommended action be taken.
Gary Jones from the firm said it had closed but was not in administration.
Wrexham and Denbighshire councils have found alternative providers to cover dedicated school transport routes.
The company has a licence to run 19 vehicles on routes across north east Wales, Cheshire and Shropshire.
Inspection
The commissioner's hearing in Welshpool, Powys, was as a result of an earlier investigation by the Driver and Vehicles Standards Agency which found "unsatisfactory" aspects in the maintenance of company vehicles.
The commissioner made "adverse findings" in several areas, including in relation to vehicles being kept fit and serviceable.
He has required the company to produce records to demonstrate its financial standing over the next year.
Wrexham councillor David A Bithell, lead member for environment and transport, said: "We're continuing to deal with the loss of D Jones & Son as best we can and officers have worked, and continue to work, tirelessly in order to secure alternative provision for those services which have been lost."