Roman and medieval coins and jewellery declared treasure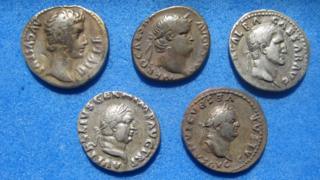 Roman and medieval gold and silver objects found in Wrexham and Flintshire have been declared treasure.
The finds included a silver gilt ring and a silver arm-ring chain, both from Henryd, and a medieval silver brooch from Trelawnyd.
Adam Gwilt, of National Museum Wales, said they helped uncover the "cultural identities and influences... of the ancient peoples of Wales".
The items were declared treasure by the coroner for north east Wales.
They were found by different people between 2014 and 2016 at locations around the two local authority areas.
Mr Gwilt, principal curator for prehistory, department of history and archaeology and project manager of the Saving Treasures; Telling Stories Project, said: "These, often personal objects, provide strong and tangible connections between people past and present."
The hoard of treasure
A hoard of 82 Roman coins buried in a red pot on a farmland near Wrexham in July 2016
An early medieval silver arm-ring chain from Henryd, uncovered in August 2016
A 13th or 14th Century silver gilt ring from Henryd, discovered in September 2014
An early medieval silver strap-end from Rossett, found in August 2015
A late medieval gold finger-ring engraved with flowers, leaves and rays from Cilcain in July 2016
A medieval silver brooch from Trelawnyd and Gwaenysgor, found in July 2016