Therapy dog Buddi visits Wrexham Maelor Hospital's sick children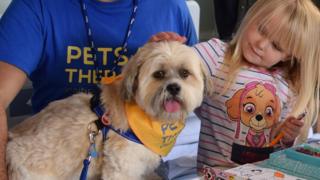 A therapy dog called Buddi has been visiting sick children in Wrexham to help them relax and keep them company while they wait for treatment.
The four-year-old Lhasa Apso underwent six months of training before starting his weekly visits to Wrexham Maelor Hospital.
Five-year-old Lowri is one of the children who has spent time with him.
Her mother Kirsty said Buddi had helped her daughter to relax in the hospital environment.
She said: "Lowri had been so nervous about coming into hospital and she's really shy so she struggles to talk about how she feels, but she was so excited when she saw the dog, it distracted her completely."
Buddi's owner, firefighter Andy Williams, said he was delighted with the reaction on the ward, adding: "He has lots of fuss and cuddles from the children but also from the staff and parents of the children. They love him visiting.
"He likes sitting in the play room with the children and having a stethoscope to his chest so they can play doctor and listen to his heart.
"He really helps with children who perhaps are going to have needles or just before they go in for an operation or children who are just scared of coming into the hospital itself."
Children's ward play specialist Emma Cunnah-Newell, who arranged the visits, said: "He brings a real buzz to the ward, not only to the children but to the parents and staff too... it really helps bring a sense of normality to the ward at what can be a really stressful time for the patients and their family members."