FAW suspends league following row over Rhyl Ladies FC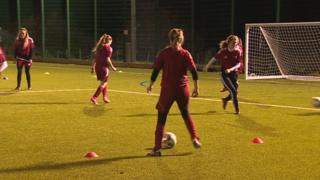 A women's football league has been suspended by the Football Association of Wales (FAW) after a dispute over the admission of a team from Denbighshire.
Rhyl Ladies FC wanted to put a team into the North Wales Women's Football League (NWWFL), which opposed the move.
The club already has a team in the Welsh Women's Premier League, and the sides could have met in the NWWFL if the first team got relegated.
The FAW will oversee the management of the league for the rest of the season.
In a statement, it said the decision had been made because the NWWFL was "not willing" to follow a non-compliance order made on 30 November 2017.
'Dedicated'
Rhyl Ladies won its dispute to have a development team included in the 2017-18 season but the NWWFL failed to admit it to the fixture list.
The league argued that there could be problems if Rhyl's first team was ever relegated from the Premier League into the NWWFL.
All fixtures were suspended following the row.
Bill Darwin, chairman of the North Wales Women's League, said it would create a clear conflict of interest and could lead to other premier league teams trying to run developmental or reserve squads in the league.
He said that no male football league allows similar team setups and claimed the ruling of the FAW may push some women's football organisations in north Wales to break away from the FAW.
Mr Darwin added: "We may as well be part of a small association who are dedicated to the development of women than a larger one that does not give the correct development."