Football league to allow Rhyl Ladies second team to play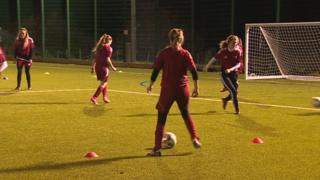 A ladies development football team is going to be allowed to play in a north Wales league following a long-running dispute over eligibility.
Rhyl Ladies FC play in the Welsh Women's Premier League and wanted to enter a team into the North Wales Women's Football League (NWWFL).
The league objected over concerns the teams could end up playing each other if the first team got relegated.
But now it has decided to allow the league including Rhyl Ladies to resume.
The club initially won its battle to enter the league but was omitted from the fixture list.
The league was then suspended by the Football Association of Wales (FAW) in January. It was sanctioned and issued with a £700 fine, which prompted complaints to football governing bodies, UEFA and FIFA.
'Intimidated'
But now the league has instructed its 11 teams to continue playing their games, including matches against the Rhyl development team.
League chairmen Bill Darwin said they have been forced to take that decision because of pressure being put on clubs by the FAW.
He said clubs "are intimidated" after being told they would be sanctioned and coaching badges would be taken away if they do not comply.
He added some of the women involved are concerned they may be banned from playing and clubs fear losing players.
The FAW has been asked to comment.