Hannah Turtle accused of smothering her baby son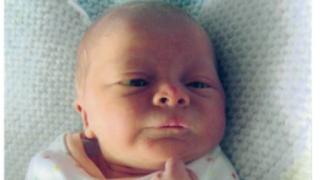 A young mother has gone on trial accused of suffocating her two-month-old son.
James Hughes died in June 2016 after being taken to hospital from his family home in Shotton, Flintshire.
His mother, Hannah Turtle, 22, has denied murdering the infant.
A jury at Mold Crown Court was told she had also restricted her son's breathing on two other occasions, and administered her own anti-depressant medication to the child.
Prosecutor David Elias QC said the defendant was careful to ensure no-one witnessed her attempts to restrict the baby's breathing.
He said Ms Turtle accepted that she stopped her child breathing on three occasions within a ten day period.
She also admitted that she had placed her own anti-depressant drug in his milk bottle on one occasion.
"The prosecution say that she knew what she was doing and she knew the serious harm she was causing her young son," said Mr Elias.
"We may never know why exactly she did this."
He was taken to the Countess of Chester Hospital and kept in for observations, but the prosecution alleged he stopped breathing while she was alone with him.
The jury heard that baby James was admitted to hospital two other times in the days leading to his death, after Ms Turtle pinched his nose to restrict breathing.
Then on 9 June, 2016, she suffocated her son again, said the prosecution.
But this time, he did not recover, and died in hospital on 13 June from brain damage due to oxygen deprivation.
"The prosecution say that he was killed by his mother," said Mr Elias.
Ms Turtle initially denied being responsible but then told a social worker that she had killed him, repeated the claim to a nurse and in a letter to police.
The jury was told that the mother said she needed help and had heard voices telling her that she did not deserve James.
"I wish I had never done it," she said,
"I know I need help."
James' funeral took place on 22 September, 2016, and Ms Turtle was told she would not be allowed to attend his funeral.
At that stage she claimed her partner had been responsible and maintained that version in a later police interview.
But the prosecutor said that the defendant now accepted that was part of an elaborate lie.
In a later interview she claimed she had suffered from post-natal depression and said she may have done it initially to seek attention and support.
The defendant has pleaded not guilty to murder, three charges of ill-treatment and two of administering poison.
The trial is expected to last three weeks.