Anger as reports into Tawel Fan ward scandal are delayed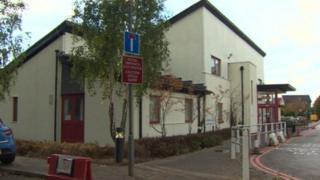 Families have reacted angrily to news that two reports into serious failings at a mental health ward have been delayed because of illness.
The Tawel Fan ward at Glan Clwyd Hospital, Denbighshire, was closed in 2013 and an investigation uncovered "institutional abuse".
Betsi Cadwaladr University Health Board (BCUHB) was placed in special measures as a result.
A spokesman said "good progress" had been made with the reports.
Health expert Donna Ockenden's report into whether governance failures contributed to the failings was due to be published on 8 March, but at a heated meeting on Monday night, the health board confirmed this would not happen because Ms Ockenden had been unwell. It could not give a revised date.
A second review by the Health and Social Care Advisory Service (HASCAS), looking at the impact on individual patients, has also been held up because of illness.
One family member, who did not want to be named, told BBC Wales: "We still don't know when we will get the reports. We are extremely unhappy - we have been waiting four-and-a-half years for this."
The families said the health board had promised them an update by the end of the week.
Shadow Health Secretary, Angela Burns, said: "This is an extraordinary amount of time for the victims and their families to have to wait.
"The Tawel Fan scandal shocked the country and the families of those affected deserved much more rapid action to address their concerns."
Geoff Ryall Harvey, chief officer of the North Wales Community Health Council, said he was "extremely disappointed" about the delay, and would be pressing the health board and the Welsh Government for a date.
Scandal
"There will never be a good time to release these reports so it is better it is done sooner rather than later so we can get some answers," he said.
The Tawel Fan scandal was uncovered after allegations of abuse of patients were investigated by Ms Ockenden, who substantiated claims by relatives that patients were kept like "animals at the zoo".
Her first report was published in 2015.
Both the pending reports were commissioned in the same year.
Last November, investigators working on the reports said their initial investigation of 25 complaints had grown to include 108 patient cases.
BCUHB chief executive Gary Doherty said both teams were "doing all they can" to minimise delay in the publication of the reports.
"Good progress has been made by those leading the HASCAS investigation and Governance review," he said.
"The gathering of evidence for both reports is complete, and the authors are in the final stages of writing their reports.
"However, the completion, and consequentially, the publication of the reports will be later than anticipated due to recent illness among both the HASCAS and Donna Ockenden teams.
"Constructive discussions between all parties are underway to agree a revised, realistic timeline for publication. The Independent Oversight Panel is scheduled to meet this week and will we provide a further update as soon as we can."