Baby son death: Hannah Turtle 'had depression history'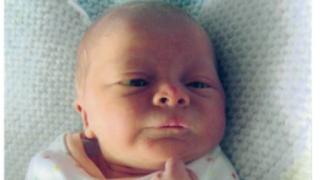 A mother accused of murdering her baby had a history of self-harm and depression, a court has heard.
Two-month-old James died on 13 June from brain damage due to oxygen deprivation.
His mother Hannah Turtle, 22, from Shotton, Flinstshire, has accepted she stopped him breathing on three occasions, prosecutors have said.
She denies murder, ill-treatment and administering a poison at Mold Crown Court.
Her partner Ian Hughes said she had been "feeling low" following James' birth.
Cross examining, defence counsel Gordon Cole QC asked him about about a visit to a GP the couple had made two weeks or so after James was born.
The doctor's records showed that Hannah was "tearful, anxious and had thoughts of self-harm".
Mr Hughes said he thought she was no more anxious than other new mothers were.
He said Ms Turtle had told him she had mental health problems at the start of their relationship and had alleged she had suffered abuse from her father in childhood.
Mr Cole put it to Mr Hughes that he no longer believed the allegations she had made about her father.
"I don't know what to believe," he replied.
Giving evidence, Mr Hughes' mother Kathleen Hughes said Ms Turtle had called out for her help on three occasions when James stopped breathing.
On the final occasion on 9 June, 2016 she said she was in her bedroom when she heard her shout out: "Kath, Kath, it has happened again."
She said she jumped out of bed and found Ms Turtle was standing on the bed with James in her arms.
She said: "He was really, really grey and very floppy."
James was taken to hospital but died four days later.
Mrs Hughes said she had never had any concerns about Ms Turtle's ability to cope and regarded her as another daughter.
The trial continues.