Plans to improve image of drug-marred Wrexham bus station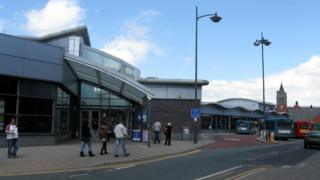 Bus companies could be charged for drivers to park and take a break under plans to improve Wrexham bus station.
The council is already set to make £73,000 in improvements to the station after a grant from the Welsh Government.
It now hopes to raise further cash to enhance CCTV at the station which has been marred by drug problems.
The council hopes changes will help to improve the first impression of Wrexham for visitors.
Last year pictures emerged of needles and drug paraphernalia left in the station as well as people apparently under the influence of drugs.
A report says the council has already started improvements to the station following a grant from the Welsh Government in December in order to improve its image as a "gateway" to the town.
The council now hopes to get more money to make further improvements including enhancing CCTV coverage.
It has already awarded a three year contract to reopen the information centre which will also deal with customer complaints.
Part of the plans to help fund the running of the station includes charging bus companies an annual £2,000 fee if they want to use lay-over spaces for drivers to take a rest.
Departure charges for operators would also increase over a three-year period to help fund the management of the station.
Councillor David Bithell said: "The council's administration is keen to improve the town centre, and the bus station is one of the key parts to improving the area and encouraging more people into Wrexham town centre."