Baby murder accused Hannah Turtle 'kept apologising'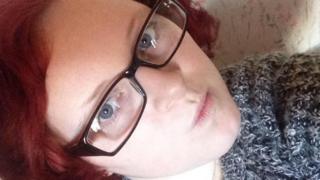 A mother from Flintshire whose two-month-old baby stopped breathing while in hospital kept apologising to staff, a court has heard.
Hannah Turtle, 22, from Shotton, is accused of suffocating James, who died last June, but she denies murder, ill-treatment and administering a poison.
Mold Crown Court heard James was in hospital after a previous incident when he stopped breathing at home.
When it happened again Ms Turtle apologised, the trial heard.
Ms Turtle has accepted that she stopped her child breathing on three occasions within a ten day period.
One of those times was when James was at the Countess of Chester Hospital, prosecuting barrister David Elias QC said.
The court heard from nurses and staff that Ms Turtle ran down a corridor carrying her son and shouting that he had stopped breathing.
He recovered after he was treated by doctors and there were no further concerns.
However, paediatric nurse Kimberley Hand said that Ms Turtle seemed anxious while health care assistant Carly Stretch remembered that Ms Turtle kept apologising, although she did not say why she was sorry.
Miss Stretch said she did not need to apologise and took her to her room.
She said that over the night Ms Turtle would keep asking if James's breathing was normal. During her checks every 20 minutes she did not see the defendant hold James once, she added.
Miss Stretch said the defendant claimed she had been abused as a child, suffered from depression and had mental health problems.
The prosecution says that on 9 June, 2016, Ms Turtle suffocated her son again.
But he did not recover, and died in hospital on 13 June from brain damage due to oxygen deprivation.
The court heard that when James was born on 17 April 2016, there were no concerns about his health and Ms Turtle's emotional health was listed as "good".
Jackie Wood, a health visitor, said ten days after the birth Ms Turtle "felt well" and claimed not to have concerns, while the baby was feeding well.
The court was told that Ms Turtle was assessed on the "Edinburgh" scale in May 2016 - a score over 10 could indicate post-natal depression and Turtle scored 18.
Ms Wood made a referral to early intervention services which was rejected.
Health visitors spoke with child protection workers after James was discharged from hospital on 6 June and there were no concerns for his safety then.
Ms Turtle denies murder, three charges of ill-treatment and two of administering poison amid allegations that she gave him her own anti-depression medication in his milk.
The trial continues.