Rhyl hammer man denied intending to harm at school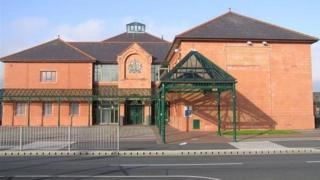 A man who brandished a 12-inch hammer at a school Halloween disco denied that he intended to harm anyone.
Stephen Griffiths, 36, from Rhyl, was cleared of posing "a serious risk of harm" but found guilty of possessing a weapon on school premises.
He had plead not guilty to both charges at Llandudno Magistrates Court on Thursday.
Griffiths was given unconditional bail while a pre-sentence report is prepared by the probation service.
Julia Galston, prosecuting, told magistrates that Griffiths said he wanted to hand out "some tough love". He was removed from the school premises by a teacher.
When giving evidence, Griffiths admitted making a "stupid mistake" by carrying the hammer but a dispute meant that he was worried about being attacked.
"I never intended to use the hammer," he said, telling his solicitor Mr Robert Vickery he was "very scared".
Griffiths, who was in a wheelchair, said that since the incident he had lost the use of his legs and had become hoarse due to depression and anxiety.
Mr Vickery told the court Griffiths did not intend to "cause serious harm or injury" and that "apart from holding the hammer in front of him he didn't do anything".