Airbus jobs: 'No negative impact on Broughton plant'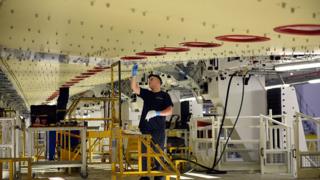 There should be "no negative impact" in Wales after an announcement that 3,700 jobs are at risk across Airbus in Europe over the next five years, the company has insisted.
It follows poor sales for its large double-decker airliner, the A380, and its military plane, the A400M.
Airbus said the Broughton wing plant in Flintshire, which employs 6,000, would be able to avoid compulsory job losses.
Workers could instead be redeployed on other projects.
This includes the backlog it has on orders of its smaller commercial planes.
It also pointed out that natural movement of workers over the next five years, including retirement, would allow them to absorb job losses as a result of the announcement.
Uncertainty still remains over what relationship there will be between the UK and the EU after Brexit and how that will impact on the aerospace industry.
The Unite union also said the announcement did not imply job losses at Broughton.
A union spokesman said it would be more likely that shift patterns may change to cope with demand.
There has also been a recent large order for A380s, which will involve the Broughton plant, which makes the majority of Airbus's wings.
The A380 became the world's largest passenger aircraft when it took to the skies more than 10 years ago.