Flint Market may close due to fall in shoppers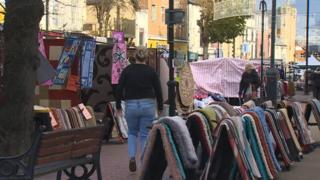 A decades-old town market is not attracting enough shoppers and should be closed, councillors have warned.
Flint's weekly bazaar used to boast up to 30 stalls each Friday, but the number has dwindled to two or three.
Stallholders, who launched a petition to save the market, have argued it brings people into the town centre.
But a report submitted to Flintshire council said it does "not add sufficiently to the vitality or vibrancy of the town".
The document, put before the authority's scrutiny committee, said it was uneconomical to close a road for the market.
It also said "the small number of traders and stalls" did not do much to boost the town centre's appeal.
'Not sustainable'
Ward councillor Ian Roberts said closing Church Street every Friday costs £10,000 a year.
This, combined with the impact on parking, traffic, and loss of trade for shopkeepers on the street "simply can't be justified for two or three stalls", he said.
"Nobody would fight harder than me to keep facilities in Flint, but the numbers of stalls and the footfall of shoppers simply isn't sustainable any longer," he said.
A charter to hold a market was first awarded to Flint over 700 years ago.
Following a hiatus in the first half of the 20th Century, it was revived after World War Two and thrived for several decades.
It was relocated to Church Street six years ago in an effort to revive its flagging fortunes, but numbers failed to improve.
When a petition to save it was launched in November, stallholder Steve 'Sweets' Branney said: "We feel it brings people into town on a Friday."
Flintshire County Council's cabinet will vote on the closure on Tuesday, 20 March.
The same scrutiny report recommends that Holywell's market should remain open in the short-term, and that the running of Connah's Quay market should be transferred from the county to town council.