Ban for 138mph biker on 60mph road near Corwen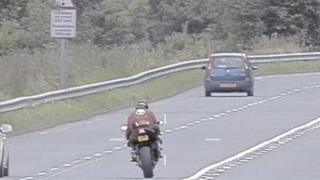 A motorcyclist who was caught riding at 138mph on a 60mph road has been banned from driving for 90 days.
Pablo Maxwell, 38, of Wellington, Shropshire, admitted speeding on the A5 near Corwen, Denbighshire, in August.
Flintshire Magistrates' Court also fined Maxwell £500 and ordered him to pay £85 costs and a £50 surcharge.
Magistrates said they were "horrified" by his speed, which was captured by a police officer with a speed camera.
Prosecutor Alun Williams said it was an astonishingly high speed.
Defending, Mike Gray said the BMW S1,000 RR motorbike could get up to tremendous speeds almost "within the blink of an eye" and was capable of stopping within the distance Maxwell could see ahead of him.
However, he added: "138mph speaks of itself. I am not going to insult the court's intelligence by attempting to condone this speed in any way."
The magistrates said they would be failing in their public duty if they allowed him to carry on driving.