Tyler Denton murder trial: Sister 'played dead'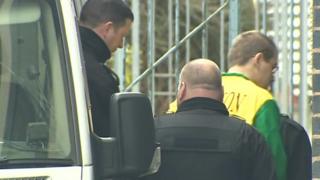 A woman whose sister died in a knife attack has told a court she played dead when the attacker turned his knife on her.
Redvers Bickley, 21, is accused of launching a brutal assault on siblings Tyler, Cody and Shannen Denton at his home in Rhyl.
Shannen, who survived the attack, told Mold Crown Court it only stopped when Mr Bickley "thought he had killed" her.
He denies murdering Tyler and attempting to murder her sisters.
Mr Bickley also denies attempting to murder their father, Paul.
The group had been celebrating Tyler's partner Hayley Barnett's 25th birthday when Mr Bickley started attacking them, the court heard.
'Felt like a punch'
Tyler had told her housemate Mr Bickley, to leave the party, but he returned later bleeding from his hands and was "swaying with his eyes rolling", jurors were told.
Giving evidence, Shannen said the women had left the house to go for a car ride upon Mr Bickley's return.
After the group returned to the property, she said, the defendant had stabbed Cody Denton in the face as she got ready to go home.
When Tyler tried to help her sister, Shannen said, Mr Bickley turned on her.
Shannen said she did not initially think Mr Bickley had a knife, but she pushed him off her sisters once she realised.
"As I came out of the house he stabbed me to the back of the head," she said.
"It hurt. It felt like a punch at the time."
She was stabbed the head, back and neck and said the attack only stopped "because he thought he had killed me," she said.
When she opened her eyes, she said, Mr Bickley had gone. She called her father, Paul Denton, who was also stabbed when he arrived at the scene and tried to restrain Mr Bickley.
A post-mortem examination found Tyler Denton had suffered eight stab wounds.
The trial continues.