Denbigh fire: Large blaze at Victorian North Wales Hospital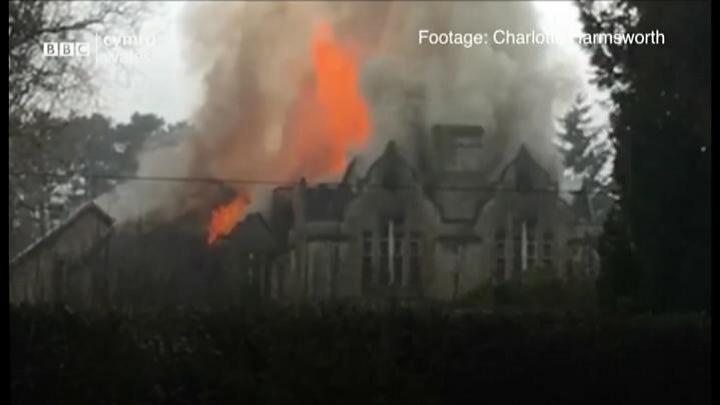 A large blaze is being tackled at an abandoned Victorian-era asylum which has previously been ravaged by fire.
North Wales Fire and Rescue Service was called to the North Wales Hospital, Denbigh, just before 12:30 BST.
Four crews are continuing to battle the blaze on Wednesday evening.
At its height about 36 firefighters were at the scene of the blaze of the derelict hospital, which has been repeatedly damaged by fire over the years.
In June, Denbighshire council said part of the Grade II-listed former hospital would have to be demolished due to the damage caused by a previous fire.
The roof collapsed, despite the efforts of more than 40 firefighters working through the night to try and save it.
The former asylum, which closed in 1995, has been set alight a number of times.
There had been uncertainty over its future but following a long battle, the council won a compulsory purchase order and plans were announced in 2016 to preserve it.
Last week Signature Livings revealed plans to build two hotels and residential homes on the site, but the proposals had not yet been submitted to the council.
Chairman Lawrence Kenwright said the fire was an "absolute tragedy" and while the company's hopes remained unchanged the council needed to act quickly to preserve the heritage.
"Unfortunately the longer the site remains derelict and falling into further disrepair, the more we will lose the heritage and fabric of this historic development," he said.
"It is imperative that the council do not delay plans any further to develop. The site as it is also now becoming a health and safety hazard to the public. "