Derelict Denbigh Hospital fire thought to be deliberate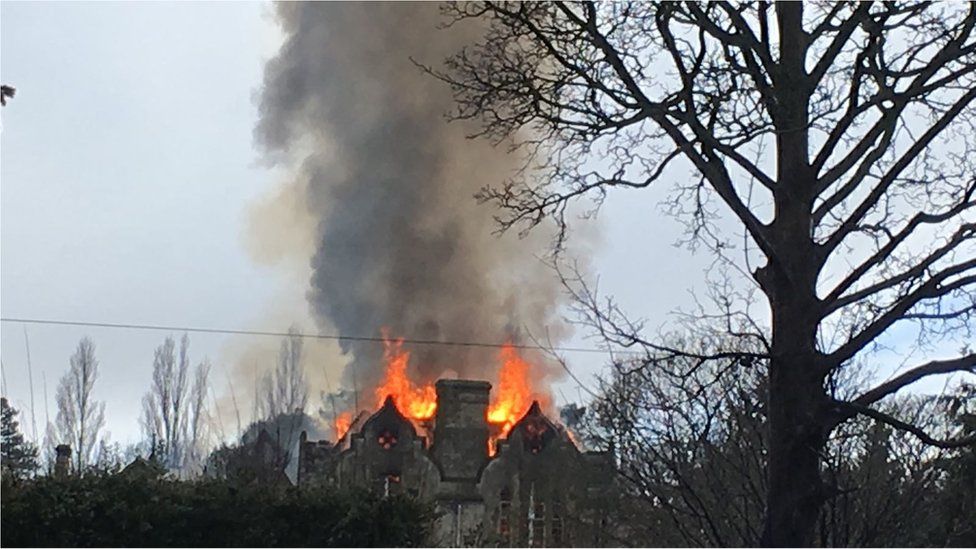 The latest fire at the site of the Grade II-listed former Denbigh Hospital is believed to be deliberate, fire and police officers have said.
Crews were called to the blaze at about 12:30 BST on Wednesday and it took more than 12 hours to put out.
The derelict former North Wales Hospital has been repeatedly damaged by fire over the years.
North Wales Fire Service, North Wales Police and Denbighshire council are investigating the cause of the fire.
"We are truly saddened to hear about the fire on Wednesday and the fact it was started deliberately beggars belief," Denbighshire council leader Hugh Evans said.
"This is the latest in a line of arson incidents at the location and despite repeated calls by the council and the emergency services, some individuals continue to place their own lives and that of others at risk, not to mention posing the significant threat to the future of the historic building."
In June, the council said part of the building would have to be demolished.
The roof collapsed as a result of a previous fire, despite the efforts of more than 40 firefighters working through the night to try and save it.
The former asylum, which closed in 1995, has been set alight a number of times.
There had been uncertainty over its future but the council are "progressing" with a compulsory purchase order with a view to "protect this historic site for future generations".
"That process is lengthy and not yet complete," added the council's leader.
"This means that the site continues to be owned by an off shore company based in the British Virgin Islands and issues around the site's safety are the responsibility of the landowner."