Sausage rolls found laced with drugs in Prestatyn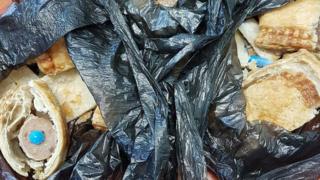 Sausage rolls filled with drugs have been found by police in Denbighshire.
The pastries were discovered at about 17:00 BST in the car park of a leisure centre in Prestatyn.
On closer inspection, the sausage rolls were found to be filled with blue pills, which North Wales Police said were filled with white powder.
Police have launched an investigation in conjunction with the RSPCA and the rural crime team.