Natural flood risk defences to protect rural community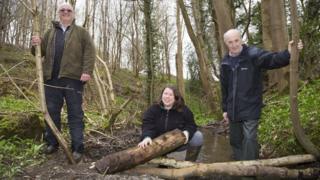 Farmers in the Denbighshire hills are using leaky log dams and hedge-planting to help prevent devastating floods in north Wales.
Simple measures, including hedge restoration and woodland creation, are being used to hold back surges of water that can cause flooding.
The initiative is designed to help protect Ruthin and St Asaph from future flooding caused by torrential rain.
The Welsh Government-funded scheme is the first of its kind in the region.
It is being overseen by the rural regeneration organisation Cadwyn Clwyd, which works closely with farmers, and will spend £330,000 on an upland catchment area of the River Clwyd.
A similar amount, managed separately by Coed Cymru, is earmarked for the River Elwy which flows through St Asaph.
Cadwyn Clwyd officials said the natural flood defences will also provide shelter for livestock, aid livestock management and reduce soil erosion.
Research suggests woodlands and hedges can increase soil infiltration rates by more than 60 times when compared to pastureland.
Gwyn Rowlands, from Cadwyn Clwyd, said: "Leaky log dams have the same effect, slowing the rate of flow so that a great mass of water doesn't arrive downstream all at once.
"The dams also work well as they hold back water without stopping it entirely.
"They do what the name implies, they leak but that also means the flow of the water slows and this is something we shall be measuring as the project unfolds."
Ceiriog Jones, a sheep and beef farmer at Cilgoed, Derwen, said: "If we in the uplands can do some hedge planting that helps us and if it prevents flooding downstream that has to be good for everyone.
"We need to encourage farming and rural skills because we need to provide a future for young people in the rural areas, particularly in the uplands."