Juliet Thomas was billed £30,000 by Axa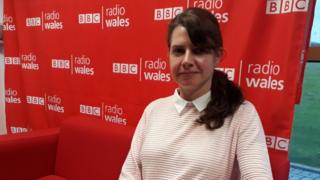 A woman taken critically ill while on holiday has been left with a £30,000 bill despite having travel insurance.
Juliet Thomas, from Sychdyn, Flintshire, had an operation to remove a benign kidney tumour after collapsing at Cape Verde, off the coast of Africa.
Her insurer Axa refused to cover the full £43,000 cost of her treatment because she did not declare a prescription for sleeping tablets.
It said her policy was for people without a recent condition.
When she collapsed an air ambulance flew her to hospital, where she underwent an operation and needed three blood transfusions.
"I didn't think I was going to make it," she told BBC Radio Wales's Good Morning Wales programme.
"I was ringing my brother to tell him where my will was."
Ms Thomas said she was in a high-dependency ward when Axa "dropped the bombshell" that it was not going to cover her medical bills in full.
She received a prescription in August for 10 sleeping pills and had not mentioned it when buying insurance in January.
Ms Thomas said it had been a "traumatic experience" and meeting the outstanding cost of treatment was "going to affect the rest of my life".
"If you don't disclose every single thing, whether it is a minor ailment... then the insurer could invalidate your insurance," she said.
She has now taken her case to her local MP and a financial watchdog.
A spokesman for Axa said: "We sympathise with Ms Thomas but the policy she purchased is designed for customers without recent medical conditions.
"However, as we did not want to decline Miss Thomas' claim, we carried out a retrospective medical screening using a more appropriate sister policy.
"Following Ms Thomas's screening, we agreed to pay an amount of the claim proportionate to the cost of her initial policy."