Teachers strike at Connah's Quay High School over management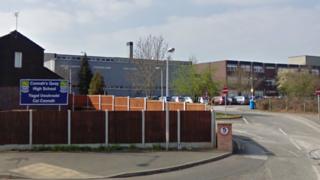 A Flintshire high school has been closed to some pupils after teachers went on strike.
Members of the NASUWT teaching union at Connah's Quay High School launched the first of six planned days of strike action on Thursday.
The union, which has 32 members at the school, said the strike was "over adverse management practices".
Flintshire County Council said action had been taken to minimise disruption at the school.
NASUWT general secretary Chris Keates said a meeting with representatives of the school governing body and the local authority had failed to resolve concerns.
"The will to create a working environment based on mutual professional trust and respect where staff are treated with dignity was sadly lacking in some quarters," said Ms Keates.
Claire Homard, Flintshire's interim director of education and youth, said the school would be open to all pupils in Years 10 and 11 but closed to pupils in Years 7, 8 and 9.