North Wales Police: Steroid gang jailed for more than 45 years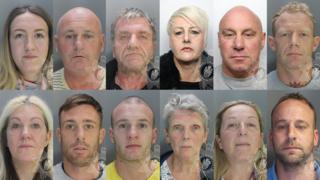 A drugs gang that imported £2m of steroids from Asia have received jail sentences totalling more than 45 years.
Mold Crown Court heard that a "sophisticated operation" bought in raw steroids and planned to manufacture them at a plant in north Wales.
As well as finding stacks of parcels across several addresses, police believe the gang netted £1.2m in two years.
Among the 16-member gang was a 68-year-old with no previous convictions.
Judge Huw Rees said: "It is a hallmark of this case that it involves some people of previous good character and some mature people who have been tempted to make a greedy profit without thought for the consequences they were imposing on others."
The investigation started three years ago after customs officers seized parcels headed for Deeside, Flint and Ruthin.
It prompted North Wales Police to launch Operation Fasti, which culminated in search warrants being executed in north Wales, West Yorkshire, Bedfordshire, Oxford and London.
Detectives found the imported drugs were often disguised as food products. The raw steroids were then re-processed before being sold online.
Officers said the websites set up by the gang gave customers the belief the drugs were legal and produced in sterile laboratory conditions.
Investigating Officer Det Con Ian Millington said: "This could not have been further from the truth and the laboratory when found was in a dirty and dusty outbuilding at an address linked to some of the defendants."
Fourteen of the defendants were sentenced on Friday. Two more of the gang will learn their fate at a future date.
The Crown Prosecution Service said a proceeds of crime hearing, which can seize assets and money, will take place in April 2019.
---
The gang's sentences
David Jenkins, 37, Flint, six years in prison
Andrew Dodd, 51, Conwy, five years in prison
Macauley Dodd, 23, Henryd: five years in prison
Scott Watson, 36, of Sealand Avenue, Garden City, four years and two months in prison
Joshua Jones, 28, of Castleford, four years in prison
Abbie Roberts, 25, Flint, three years and four months in prison
Helen Massey, 46, Shotton, three years and four months in prison
Samantha Fletcher, 47, Flint, three years and four months in prison
Brian Craig, 63, of Shotton, three years in prison
Craig Anholm, 47, of Castleford, two years and eight months in prison
Colin Mark Sullivan, 37, Hawarden, two years and five months in prison
Maureen Jenkins, 68, Fairway, Sandycroft, 20 months in prison
Christina Fisher, 45, Castlefield, West Yorkshire, 18 months in prison
Joseph Taylor-Hannah, 28, of Huddersfield, nine months suspended for 12 months and 200 hours of unpaid work
---