Champions League: Liverpool fan's woe after 'flight farce'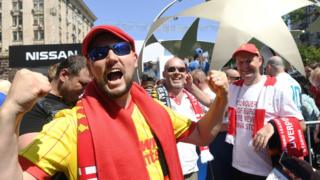 A football fan gave away his Champions League final ticket when his flight to Kiev was cancelled, only for the journey to be rescheduled.
Liverpool fan Spencer Evans, from Rhyl, is now flying to Kiev in the hope of getting another ticket.
Travel firm World Choice Sports said it was down to problems allocating times for planes to land.
Liverpool's mayor spoke to Kiev's mayor, former boxing champion Vitali Klitschko, and flights were reinstated.
Mr Evans said he only found out on Thursday afternoon his original flight had been cancelled.
"We just got a text from World Choice Sports to say it was cancelled and then off the back of that, they cancelled another four or five.
"I gave it to a lad that we know of who was just desperate to go.
"He had all his flights and accommodation booked and he just needed a ticket so I just passed it on to him with the thought that we weren't going to be going.
"I didn't want to go back to him and say 'can we have the ticket back?'."
He is hopeful he will get a ticket when he lands in Kiev.
"I'm sure one will turn up," he said.
"This is only going to be worthwhile for one thing and one thing only and that's if we win."
World Choice said the problems were due to officials at Kiev Boryspil airport, who had been unable to allocate times for planes to land.
Liverpool mayor Joe Anderson tweeted that he was "frustrated and angry" for the fans.
"I can tell you I had six long calls today and sorted out slots for two planes to land.
"The airline said they could go ahead, so what's happened? Over to you Worldchoice," he said.
Worldchoice Sports' website said the firm had "worked extremely hard over the last 48 hours trying to resolve these issues".
"We have exhausted all avenues to try and get landing slots. We have applied for slots in the correct manner and timeframe with the authorities."